Marketing
Published on February 7th, 2008 | by Maryanne Conlin
3
Using The Web to Build Your Green Business.
Benjamin Brown, the CEO of Web start-up MakeMeSustainable.com feels that tapping social networking on the Web is the best way to build a business with an environmental slant.
I'd have to say that we at Ecopreneurist agree. While most businesses focus on attracting mainstream media visibility, as we said here, often the best way for eco-entrepreneurs to grow their businesses is to build grassroots support. In the world of Web 2.0, that means going online.
At my first college entrepreneurial venture in the '80s, we slowly built our business by knocking on doors. Now, we'd probably make "friends" through Facebook. A start-up I worked for in the '90s built their business by selling at swap meets. Now entrepreneurs build an e-Bay store.
Growing by word of mouth is a time honored tactic of entrepreneurs. In an earlier time, that meant going door to door or spreading the word through family and friends. Now it means engaging in social media.
"There's a lot of noise and a lot of great clean technologies are going to be created," Brown says. "The reason I wanted to go towards the Web is because, in the end, it's the individual consumer who will be driving those concepts and ideas."
MAKE SOLAR WORK FOR YOU!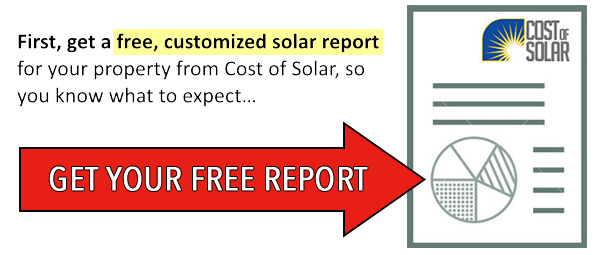 Next, use your Solar Report to get the best quote!