Business
Published on November 27th, 2012 | by Pattie Kettle
2
Eco-Fashion is in Vogue: Re-Purposed Clothing that is Chic and Eco-friendly
Ecouterre is the brainchild of Jill Fehrenbacher.  Founded in September 2009, ecouterre is a website devoted to the future of sustainable fashion design.  By showcasing and supporting designers who not only contemplate cut, form, and drape, but also the garment's social and environmental impact. 
The ethos of the site is to follow the evolution of the high-fashion and apparel industry towards a more environmentally sound future as well as evangelizing the idea that sustainable fashion matters.
By highlighting innovations in fiber technology which are helping to pave the way for designers and manufacturers to embrace the use of sustainable materials, processes, and designs. More than just a laundry list of sustainable clothing and sleek accessories to buy, Ecouterre's mission is to inspire, inform, and encourage sustainable innovation.
Founder Jill Fehrenbacher is also a successful freelance designer and green-design consultant.  Her education includes a B.A. in art semiotics from Brown University as well as beginning a master's in architecture at Columbia University.  Her work with Ecouterre has been profiled in Vogue, Paper, the New York Times, and the Wall Street Journal.
Recently Asian nonprofit Redress launched a consumer-facing certification which corroborates the authenticity of "upcycled" garments.  The trademark-pending "R Certificate" guarantees that retailers, designers, and brands are recycling factory offcuts and pre-consumer waste into new items through third-party verification, supply-chain transparency, and user-friendly visual graphics.
The actual certificate itself is manufactured using a minimum of 20 percent recycled fibers in a Global-Recycle Standard certified facility which has a fully transparent and traceable supply chain.  Consumers can verify their purchase's R Certificate tracking number to learn more about its estimated environmental savings and positive impact on sustainability.
Esprit is the first retailer to begin using the certificate.  With the R Certificate, Christine Dean, Founder and CEO of Redress, "the goal is to recycle quality factory fabric waste and unused clothing waste in a way which will ultimately save our Earth's diminishing natural resources.
Esprit's new recycled casual-wear had its debut in May of this year.  According to Michel Bourlon, Esprit's head of global sourcing, "this third party certification verifies that we recycled our own factory fabric waste into our new sustainable fashion line."  He also states that, "it further allows us to communicate our supply chain transparency whilst educating our customers about sustainability at the same time."
To learn more about Esprit's new line, the R certificate, and Ecouterre itself:
http://www.rcertificate.com/AboutTheR.aspx
MAKE SOLAR WORK FOR YOU!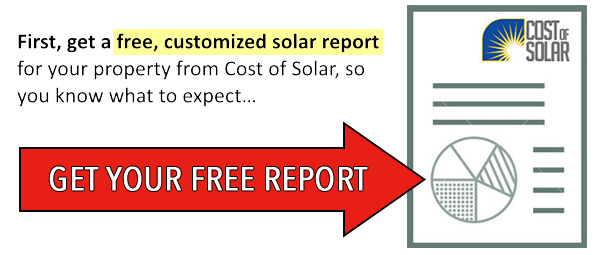 Next, use your Solar Report to get the best quote!