Business
Published on March 26th, 2013 | by Pattie Kettle
2
Stocking Up on Your Social Conscience
The Social Stock Exchange (SSE) is looking to become the premier venue and access portal for Social Enterprises and Social Purposes Businesses seeking to raise risk capital and for Social Impact Investors looking to find global businesses which reflect their values.  
The program is targeting smaller high growth companies in the health, educational and environmental markets such as: social and affordable housing, social transport, green and ethical consumerism, clean-tech, green-tech, waste, water, recycling, regeneration, education, public health, sustainable forestry and organic agriculture, and 'base of the pyramid' interventions.
It is a venue for businesses that trade expressly to alleviate some of the world's most intractable social issues that are not adequately provided for by government or the purely private sector. Our unique social investment venue means that the social value of the businesses will be promoted to the investing public and intermediaries, with standardized forms of reporting and disclosure.
By building a platform which comprises social businesses from around the world and creating a user-friendly option for attracting capital, individuals, private clients, family offices, foundations and institutional investors can easily find the right fit for a business with demonstrable social returns.
Based in London Bridge, London UK, the Social Stock Exchange includes world markets professionals, investment bankers, and asset managers.  While not live yet, they are building the web platform and links with their socially conscious supporters.  There is currently a large pipeline of companies who wish to become members, stock exchanges, the market-maker and broker communities, and the community of impact investors.
Their mission statement is:
We are building: for the future. A global capital marketplace for common cause and greater good.
The SSE is set up to:
Be the premier global venue to display social purpose businesses who have raised risk capital by issuing public equity and debt
Enable social impact investors across private wealth managers, family offices, foundations and institutions to find investable organizations that reflect their values
Provide a platform that catalyzes investment via the dissemination of information, standardization of social impact documentation, and improved visibility of member companies
Enable the market to recognize and place a capital markets valuation on disclosed social outcomes
Provide a platform that is global in focus and reach in order to increase visibility for publicly tradable social businesses
MAKE SOLAR WORK FOR YOU!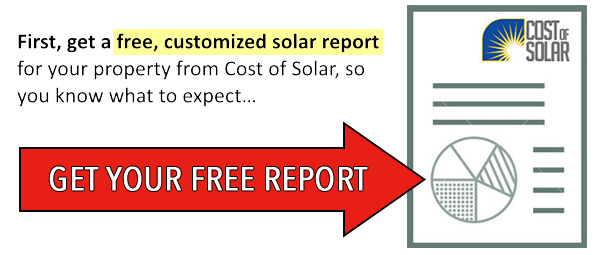 Next, use your Solar Report to get the best quote!